Tuned Drift and GT Car Sales
Our location in a race track means we can test cars and set them up using our circuit knowledge.
Real cars, all handpicked with pride

Unlike some companies out there our cars are actually in stock, or available to us at our friends/colleagues/tuners.  The cars we offer are all known to us and not, like many out there, simply pictures taken of the internet and advertised for sale as "Virtual Stock". We pride ourselves in picking special cars and detailing all sales points and faults so you know exactly what your buying!!!! Almost ALL of the cars on this site in the Showroom are sitting at our shop, where they are caringly prepared for export to their new homes, or to be driven here in Japan by there new owners. We can ship all over the world but please check import restrictions for your country before contacting us.
Vehicle Sourcing
Looking for a Japanese Car?  We can source what you want from either the Auction System or through our many contacts in the tuning industry here in the East of Japan.  We have supplied many famous cars from D1 cars to Time attack Legends.  Whatever your budget we will do the best to get you the best car possible.
When buying a car from Japan choose a company that actually personally checks the car and knows what they are looking at, good drift cars, for example, are very hard to find. 99% of exporters dont know what makes a good or bad tuned sports car…. We spend hours pouring over the cars and appraise them in a way like no one else, applying our years of experience hands on in the tuning industry building, racing, and developing our own race cars all year round.
We have garage premises, Demo cars, full workshop facilities at our fingertips, and all this with a motorsports complex. We don't simply operate out of yards at the port like most others, we can build and test our cars properly! Buy with confidence from a name YOU CAN TRUST – powervehicles.com – Just Google us!
Vehicle Building and Tuning
We not only source the best modified cars from Auction, Tuners, and Dealers here, we modify cars in house, build specific cars to order and can commission work at many of the top names in the Japanese Tuning Industry!  We have, and continue to make unique cars and always have a number of "project cars" at any one time.
Drift Competition Assistance and Prepartion
We can help you should you want to compete here in Japan, with complete support from cars to logistics.

Drift Car Lessons
Want to try your hands at Drifting, here in the country were it all started? Well we can arrange it all!
Drift Packages
This is the ideal package for the driver from outside Japan, who wants to learn from the best. Personal tuition from a Team Orange D1 driver. Complete 'Arrive and Drive' style. This package includes everything you will need: Turbo charged drift car, circuit hire fee, lesson fee, 4 tyres and 1 full tank of fuel. (Additional fuel and tyres are available if required at extra cost). We can cater for all levels from complete novice to professional driver, tailoring each days tuition so suit each individual. Price per driver/car 120,000 JPY + 10,000 JPY for booking fee.
(60,000 if you use your own car + 10,000 JPY booking fee)
D1/D1 SL Car Rental and Entry to a D1/D1 SL Round!
This is for Experienced drifters only and drivers must meet specific requirements to qualify – POA.
Drift Matsuri Car Sales. We can arrange for you to purchase low cost Drift ready cars so you can participate in the madness that is the Ebisu Drift Matsuri! (Tri-Annual 2-Day Non-stop Drift events that have to be seen to be believed!) Car Export or Disposal can be arranged after the event on Request.
In Conjunction with the 3 Matsuris, Open Competition for foreigners – G1 GP
Contact us for info
We can cater for groups of all sizes.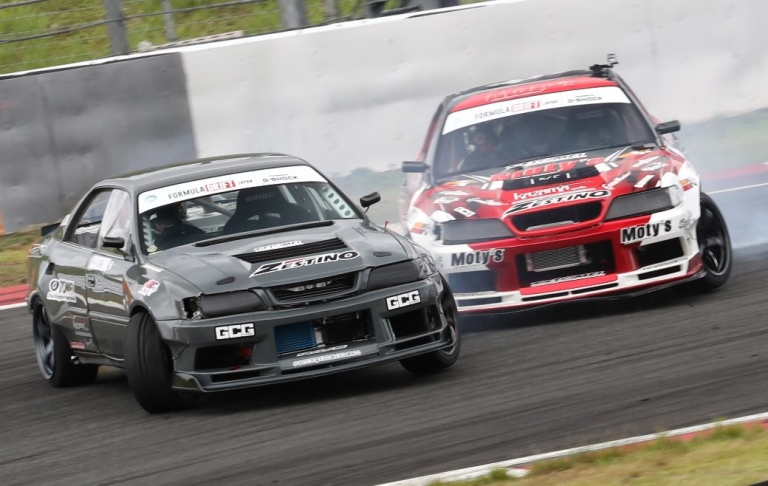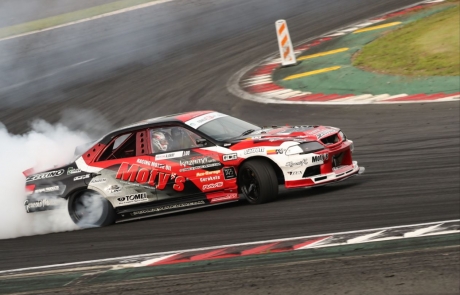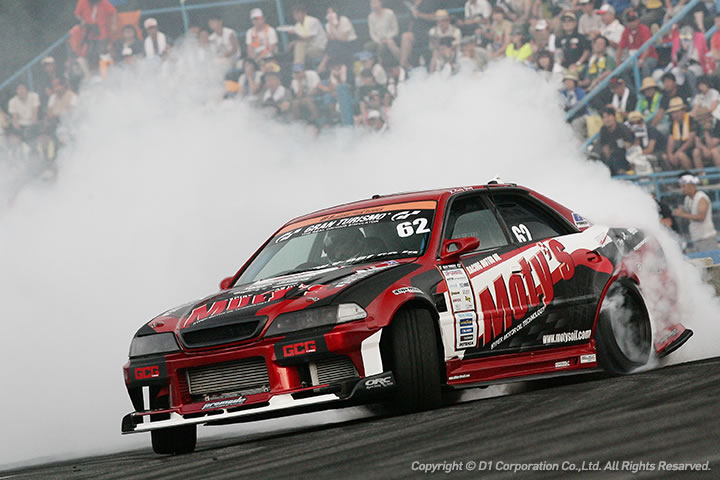 NOTICE: All lessons must be booked minimum 2 weeks in advance and are SUBJECT TO AVAILABLILTY.  Team Orange and Powervehicles Schedules are VERY busy, especially near Drift Matsuris and D1 / D1SL Rounds. Snow Season at Ebisu is Late December to Early April.  Its very hard to schedule lessons around that time due to snow fall and lack of persons to translate the lesson.