1999.8 S15 Silvia Spec S Converted to Turbo Spec, For Sale
1,595,000 JPY FOB (Plus Tax for Domestic Sale)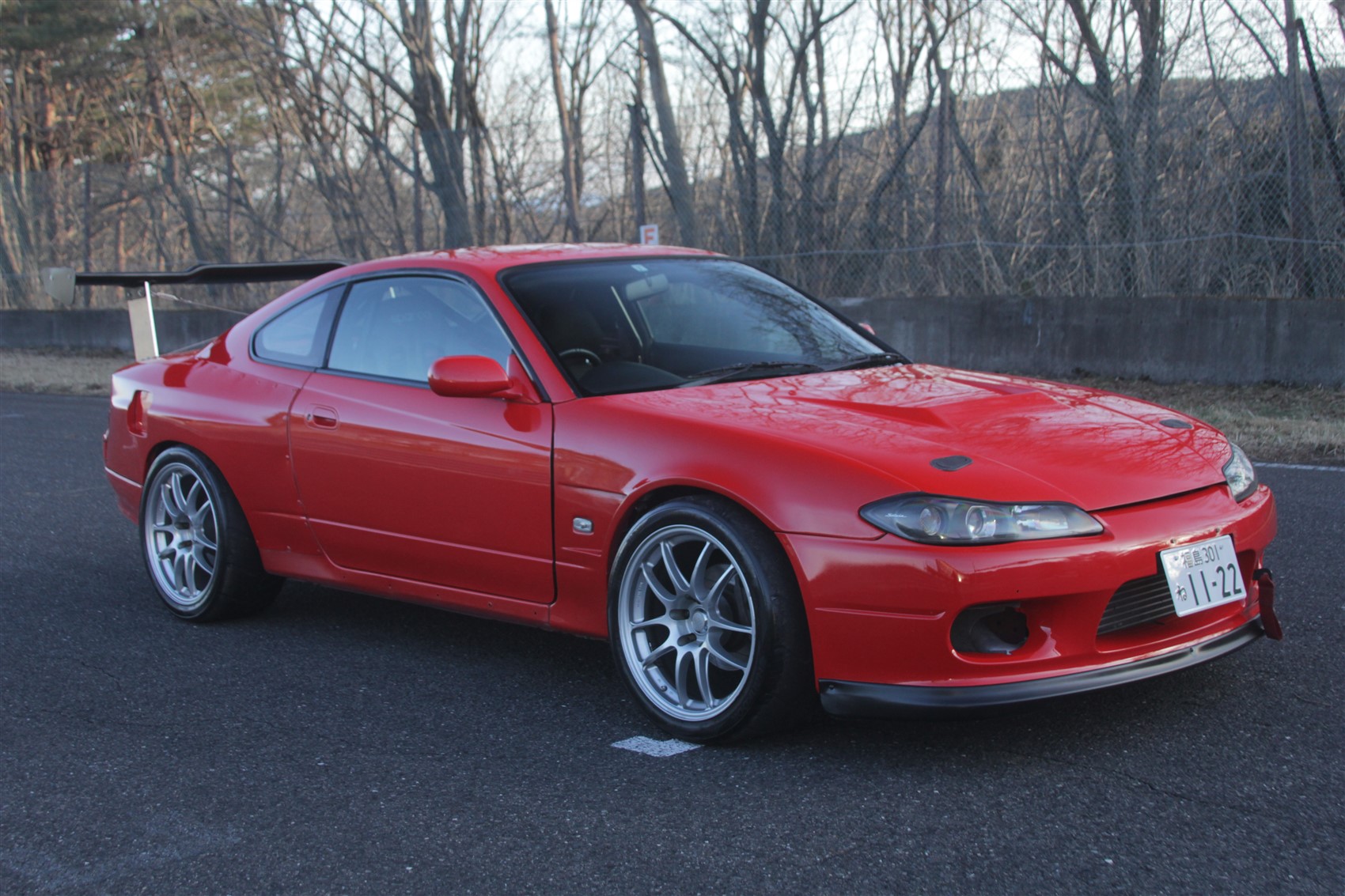 We are proud to offer this Nissan Silvia S15 Spec S for Sale, with a turbo SR20 & 5 Speed transmission swap, along with Tuning parts. This Modified S15 is a great base for Street/Drift or Circuit use and is ready to Ship Worldwide.
S14 Turbo
Oil Cooler with Ducting
2 Layer Aftermarket Rad
R35 Air Flow Adapter
R35 Afm
Engine Torque Damper
Cusco Front Strut Brace
Front Mounted Intercooler Kit
Trust Air Cleaner
Aftermarket Manifold
Stain Mesh Turbo Lines
SARD 550cc Inj
Uprated Fuel Pump
5 Speed Mission
Enkei 18" Wheels 9.5J + 35
GP Sports EXAS Muffler
Dual front Pipe
Aftermarket Outlet (HKS? , been welded)
Decat Pipe
Aftermarket LSD , 4:1 Final
Solid Rear LSD Bushes
D-Max Super Street Coilovers
KTS Rear Adjustable Upper Arms
Kazama Auto Rear
Uprated Clutch (Normal looking cover, maybe Nismo?)
Solid Subframe Collars
Stain Mesh Rear Brake Lines
Larger Rear Rotors, Rear Caliper Adapters
Rear Wheel Spacers
Stain Mesh clutch Line
Aftermarket Tie Rods And Ends
Front Wheel Spacers
Front Pilo Tension Rods
Front Slit Brake Rotors
FRP Trunk
Rear Over Fenders
LED Tail Lights
Custom Large GT Wing
Front Lip Spoiler
FRP Bonnet
Bonnet Pins
Front Tow Strap
Front FRP Wide Fenders
Apexi Power FC & Commander
Bride Sports Recliner Seat
Drift Button
Razon Shift Knob
7 Point Cage
Greddy Turbo timer
Blitz Dual SBC
Carrozzeria Navi
Assura Display AR-303GA
Apexi Power FC & Commander
Full Bucket Seat (Worn)
Drift Button
Razon Shift Knob
7 Point Cage
Greddy Turbo timer
Blitz Dual SBC
Carrozzeria Navi
Assura Display AR-303GA
Please Study all pics for more info
Windscreen Seals need replaced, window is loose
Speedo Meter change history , total Kms unknown
Repair history to Trunk, Left Rear Fender Replaced, Sill Replaced, front Panel Replaced, Front Left Chassis end slight repair, Other Repairs visible – see pics. Had quite a few repairs but panel damage, doesn't look major to us
Some Dash Cracks
Some small chips and cracks on aero parts – see pics
Passenger Door Checks white (Drivers side Red)
Paint work is ok, but not perfect
NA> Turbo Engine Conversion, AT> MT
Checked the tune , seems fine. Did cut out on the in car video (Idle Stall) but only did that once. Boost 1.1, 300ps approx.
Bonnet Release is zip Tie coming out of the trunk
Some Play in Gear Linkage
No Rear Seat or Trim
Export
We can arrange this car to be shipped to you in your home country!
Drive
You can fly to Japan and Drive this car here on the Circuits of Ebisu!
Tune
We can further Tune this car with Top Parts from our extensive Partners List!
For more information on this vehicle please use the form below.