1995.8 S14 Silvia Ks, Repainted White
2,695,000 JPY FOB (Plus Tax for Domestic Sale)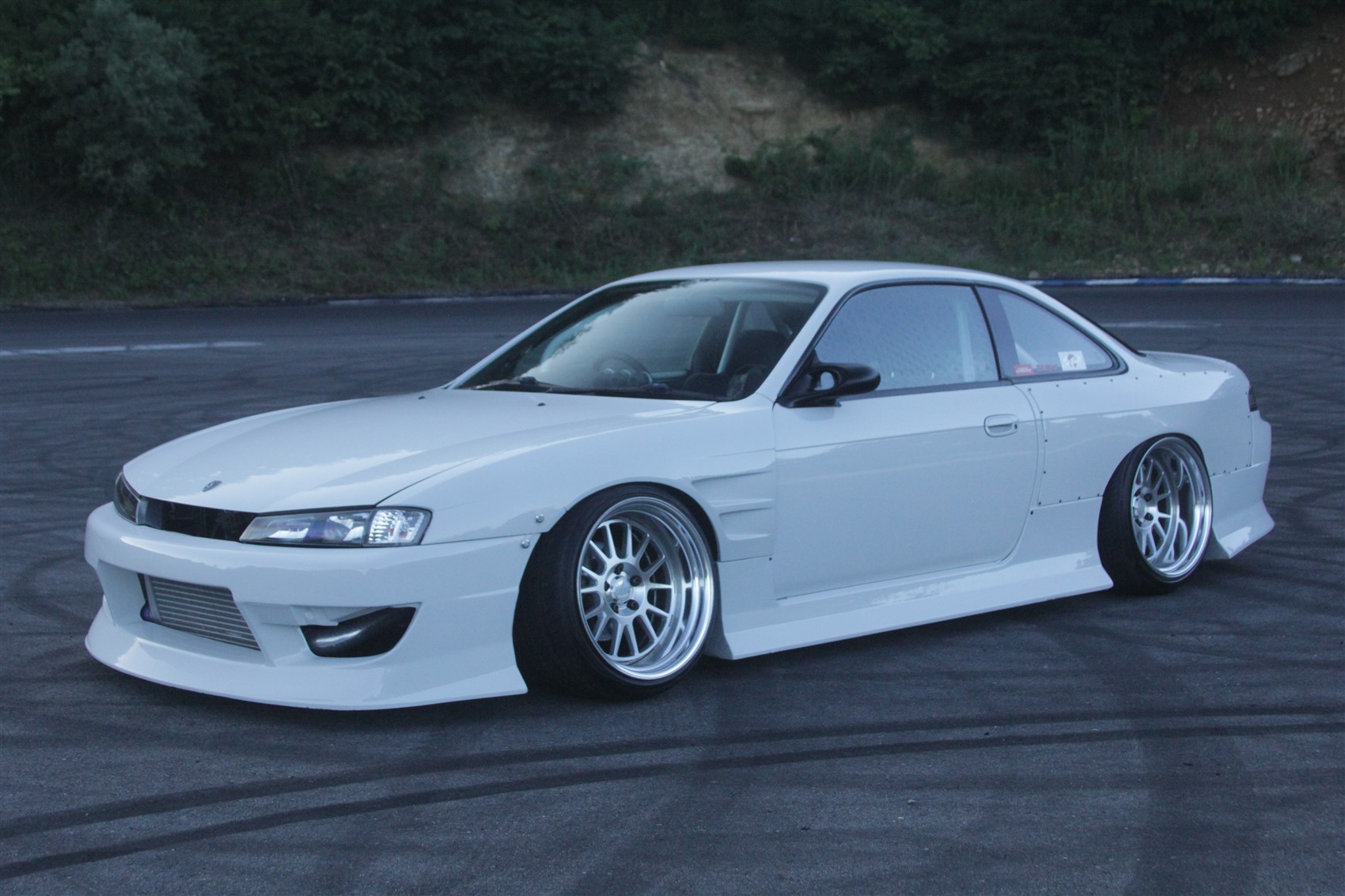 We are proud to offer this Modified Lowdown Drift Spec S14 Silvia for Sale! This Heavily modified drift/street Car has just been fully prepped at Powervehicles and is now ready for sale in Japan or Ship Worldwide.
Altrack Exhaust Manifold (Top level Japanese Parts http://www.altrack.net/)
S15 Turbo
HKS Actuator
Kazama Auto Engine Mounts
Aftermarket Turbo Outlet
Blitz Intercooler Kit
Greddy Oil cooler Kit
HPI Rad
NEW Dry Cell Battery
HKS Air Cleaner
Metal Suction Pipe
Z32 AFM
Engine Torque Damper
Nismo 555cc inj
Rocker Arm Stoppers
Tomei Poncams
New Drycell Battery
Aftermarket Exhaust
Decat Pipe
Aftermarket Front Pipe
6 Speed S15 Trans
ZSS Rear Toe Rods
ZSS Rear Upper Arms
ZSS Rear traction rods
DG5 G master Coilovers
Swift Rear Springs (F10KG, R9KG)
Rear Subframe Collars
Stain mesh Front Brake Lines
Aftermarket Knuckles
Ikeya Tie Rods and Ends
Skid Racing Traction Rods
Endless Rear Pads
Work Seeker F18 x 10 -10 ,R18 x 11J – 25 Wheels
D-max Rear Bumper
D-max Side Skirts
D-max Front FRP Wide Fenders
D-max Rear Over Fenders
D-max Front Fenders
S14 Rear LED Lights
Ganador Mirrors
Aftermarket Clear Headlights
Crystal Corner Winkers
Front Strut Brace
Uprated Fuel Pump
Apexi Power FC (Just Remapped, 1.2 bar)
S15 Passenger Seat
Bride Recliner for Driver
HPI Harness for Driver
New Kazama Auto Steering Wheel
Full Roll Cage with Harness Bar
Drift Button
Defi boost Gauge
Defi Meter Controller
Defi Water Temp Gauge
Defi Oil temp Gauge
Defi Oil Press Gauge
Greddy Profec Boost Controller
Please Study all pics for more info (Full size copies can be seen in the Gallery)
Around 320ps, can be raised to nearer 400 if we change to a larger turbo.
Some Scrapes and dents on the inside edge of front wheels
Spare front 18×10 T5R2P wheels with car, also have some scrapes on inside edge
Light damage to Rear fender/ Bumper and Rear Light (Repair around 150,000 JPY if required)
Air Con Removed
Trunk Painted inside
Head Gasket looks OEM
Unfortunately on the drift test video the front tyres caught the fender edge and damaged it – see pic in the gallery
Small dent on roof
No Weather seal on windscreen
Tear in Drivers Seat – Alternative seats available on request at extra cost
Export
We can arrange this car to be shipped to you in your home country!
Drive
You can fly to Japan and Drive this car here on the Circuits of Ebisu!
Tune
We can further Tune this car with Top Parts from our extensive Partners List!
For more information on this vehicle please use the form below.