2000.3 Toyota JZX100 Mark 2 with 2JZ & G35 For Sale
4,400,000 JPY FOB (Plus Tax for Domestic Sale)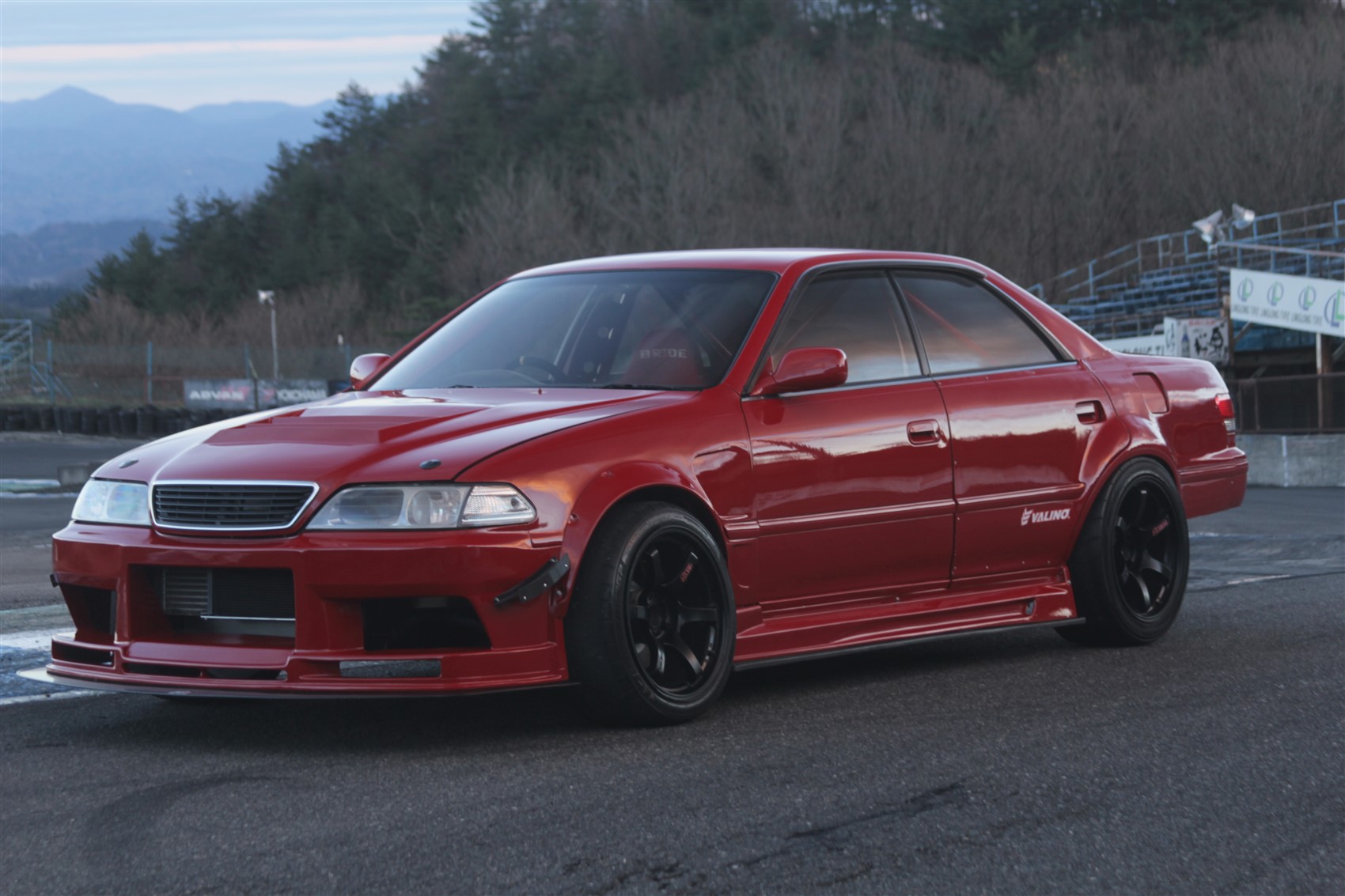 2000.3 Toyota JZX100 Mark 2
We are proud to Offer this Toyota JZX100 Mark 2 for Sale, with a 2JZ engine and R154 Transmission swap, along with G35, fully built in house at Powervehicles. This rare 2JZ Swapped JZX100 has many brand new tuning parts and is ready to Ship Worldwide.
Spec:
2000.3 Toyota JZX100 Mark 2
TYRES::
F: Valino High Grip (Some Tread)
R: No Tread
2JZ Non VVti
New Garrett G35-1050 turbo
New Turbo Smart Pro Gate 50 Wastegate
New 264/264 Tighe Camshafts
New Fenix Radiator
Lexus Electric Fans
Custom Set back and flipped intercooler and piping
Metal Suction Pipe
Stainless Exhaust Mani
Painted Cam Covers
K&N Air Cleaner
Greddy Intake
SARD Fuel Pressure Regulator
Greddy Metal Upper Rad Hose
Greddy Clear Cam Cover
Tomei Adjustable Slide Pulleys
Q45 Throttle
Silicone Lower Rad Hose
AN Type Fittings For turbo Lines
Tomei Adjustable Fuel Pressure Regulator
Aftermarket Front Pipe
Kazama Auto Engine Mounts
Sertab Oil cooler (Front Mounted as per Formula Drift Regs)
New Bosche 770cc Injectors
New Water pump and Timing belt
JZX110 OEM R154 Trans
Tomei Trax 2 way LSD
Reinforced Rear member
Solid Diff Mounts
JZX100 Tension Rods with Pilo Uppers
Kazama Auto Rear Arm Set
Kazama Auto Tie Rods with spacers
Kazama Auto Extra Long Tie rod Ends
Kazama Auto 25mm Extended Lower Arms
PV Knuckles
Solid Subframe Collars
Custom Strait Exhaust with Dump at LSD
Front & rear Wheel Spacers
Brembo F40 Calipers
New Dixcell Slotted Rotors
New Project Mu Pads
Front TRD Stabiliser
Gram Light 57DR 18" wheels (Rear 10.5+ 12, Front 9.5 + 12)
Stain Mesh Brake Lines
NEW Hey man Spec DG5 Coilovers (Rear 7kg, front 24kg)
Additional Fuel Line
New Dixcell Brake shoes
New Dixcell Rear Rotors Cusco Front Under Brace
New 659 ORC Twin Plate Clutch
Kazama Auto Rear Pads
Run Max Bonnet Pins
Kazama Auto Front Fenders
Kazama Auto Front Bumper
Kazama Auto Side Skirts
Kazama Auto Side Skirt Extensions
BN Sports Rear Over Fenders
Clear corner Winkers
Oil Catch Can
Front Fender Arch Extensions
Front Carbon Canards
APR Front Carbon Lip
Powervehicles Front Strut Brace
SARD Fuel Collector and Dual Pumps
Uprated Lift Pump
Full Roll Cage (Weld in, with Support Gussets)
Drift Button
PV Shift Knob
PV Steering Wheel
Bride Full Bucket Seats
Drift Works Harnesses
Battery in box relocated to rear seat area
New Greddy Profec B Boost Controller
Link Kurofune ECU (Just mapped by our tuner, boost 1.7 max)
Defi Link Controller
Defi Water Temp Meter
Defi Oil Temp Meter
Defi Oil Press Meter
Defi boost Meter
Registered as 2JZ / 3000cc on paperwork (1JZ NA > 2JZ Turbo)
AT>MT swapped
Please Study all pics for more info (Full size copies can be viewed in Link below)
Some cracks on bonnet around custom vent (Can be repainted / changed if required)
Repainted VW Tornado Red
Many New Parts! Only been used for 1 Grip day at Sugo and some testing in Ebisu since build!
Engine is Stock 2JZ Block
Parts marked as new have done under 500kms, many other parts probably the same!
Built from Normal Spec 2JZ in House at Powervehicles
Rear Floor Cut (Plate can be welded in if required)
Spoiler Can be supplied and fitted at extra cost (Low mount, GT Wing, Duck Tail, anything!)
Headlights modified for intake pipping
Circuit Tuned, Estimate 600+ HP!
Seats max back suit drivers no taller than 6ft 2" Approx. (Roll Cage)
Glass windows, electrics still work (Can be swapped to Acrylic if for weight saving at extra cost)
No Aircon but heaters still work as normal
Total Kms unknown, not true mileage
Ready for Competition!
Export
We can arrange this car to be shipped to you in your home country!
Drive
You can fly to Japan and Drive this car here on the Circuits of Ebisu!
Tune
We can further Tune this car with Top Parts from our extensive Partners List!
For more information on this vehicle please use the form below.