1998.3 JZX100 Mark2 Tourer V For Sale
3,495,000 JPY FOB (Plus Tax for Domestic Sale)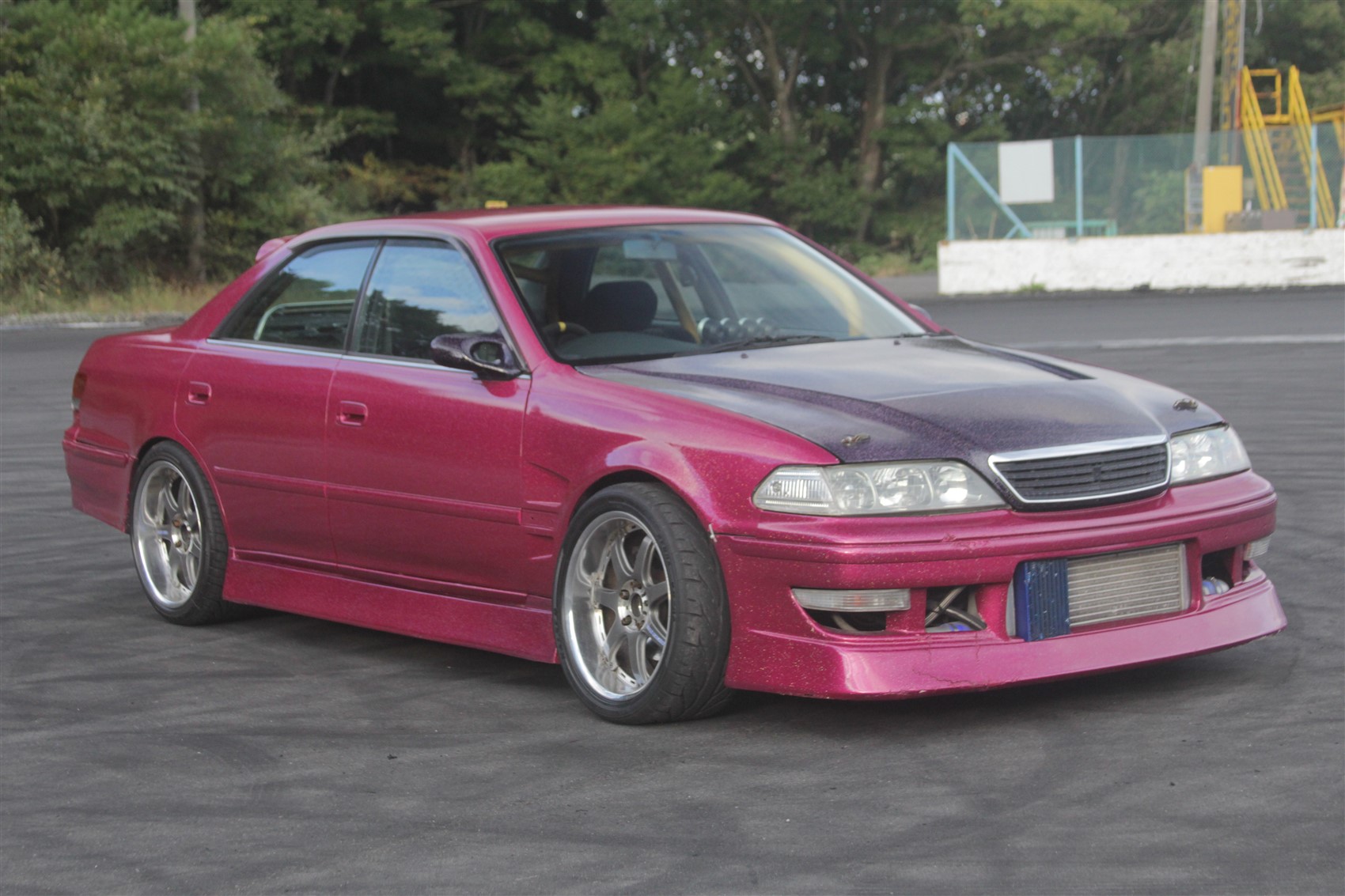 1998.3 JZX100 Mark 2 Tourer V
We are proud to offer this JZ100 Mark 2 that we have fully prepped for Drift, For Sale! This Heavily modified drift Car is in ready to race condition, ready to sell in Japan or Ship Worldwide.
Colour:
Pink with Rainbow Glitter
Engine:
2JZ Block, 1JZ Head (1.5JZ)
2JZ Block, 1JZ head (3000cc 1.5JZ)
Oil filter Relocation block
Dual Oil Coolers, One with Electric fan on a switch
Aftermarket Front pipe
Metal Suction Pipe
Greddy T88-34D 15cm
Stainless Mani
PV Turbo Cover
HKS Suction Filter
NEW HKS Cams (264/264)
SARD Adjustable FPR
Greddy Intercooler Kit
Painted Engine Cover
Caron Coil Cover
Water Bypass Kit
Large Copper Koyo Rad
Ganador Mirrors
Asnu Injectors
Greddy Wastegate
Nagao Auto R154 – 株式会社ながおテクノ (nagaotechno.co.jp) (Review here in Japanese) 
Custom Exhaust
Kazama Auto Rear Arm Set
D-West Rear Member
Aftermarket LSD
NEW RG Coilovers (Front 18K, Rear 8k)
WELD Rear LSD Mounting Collard
Floor Rail Support Bars
Toms Front Member Brace
HKS Twin Plate clutch
Kazama Auto Front Extended Lower Arms (+25mm)
Aftermarket Knuckles (Hey man 800?)
Extended Tie Rods Ends
RAYS VR GT-& Wheels (F18 x 9J + 25, R 18 x 10J +38)
Aftermarket Front Rotors
Aftermarket Front Pads
JZX110 Tension Rods with Pilo Bushes
Rear Aero (Cut)
Front Aero
Aero Side Skirts
Flared Rear Fenders
Vertex Front FRP Fenders
Rear Floor Cut
Inner Fender Supports
Juran Strut Brace
Roof Tip Spoiler
Aftermarket HID Kit
Boot Bracing Bars
Stripped and Painted
Cusco Rear Strut Brace
Do Luck Interior Floor Brace
Full Cage
Uprated Fuel Pump
HKS EVC S Boost Controller
Defi Oil Pressure Meter
Defi Water Temp Meter
Defi Oil Temp Meter
Defi Turbo Pressure Meter
Defi Meter Controller
Apexi Power FC Djetro (Just tuned by OKI of Tex Modify)
Power FC Commander
Pioneer Navi
Attain Shift Knob
Bride (?) Ohtake Seat
Sparco 4 Point Harnesses
Drift Button
Momo Steering Wheel
Please Study all pics for more info Advise Air Con Condenser removed for dedicated drift use (Still has complete AC)
Front and Rear Accident History – Rear Floor cut, front repair a little rusty / untidy but no problem for a drift car
Some cracks in Aero Parts
Trans feels good
Small chip on front fender after we tested it on the bank (We will try and touch up)
Estimated 550-600HP (We tuned on the Circuit so no Dyno Figure)
Boost 1.4
Tie Rods Replaced to NEW Kazama Auto ones since Pics
Front Rad Support lower panel repaired, brackets for intercooler not very pretty but all is secure
Export
We can arrange this car to be shipped to you in your home country!
Drive
You can fly to Japan and Drive this car here on the Circuits of Ebisu!
Tune
We can further Tune this car with Top Parts from our extensive Partners List!
For more information on this vehicle please use the form below.