1997.9 JZX100 Chaser Tourer V Repainted Bronze Metallic
2,595,000 JPY FOB (Plus Tax for Domestic Sale)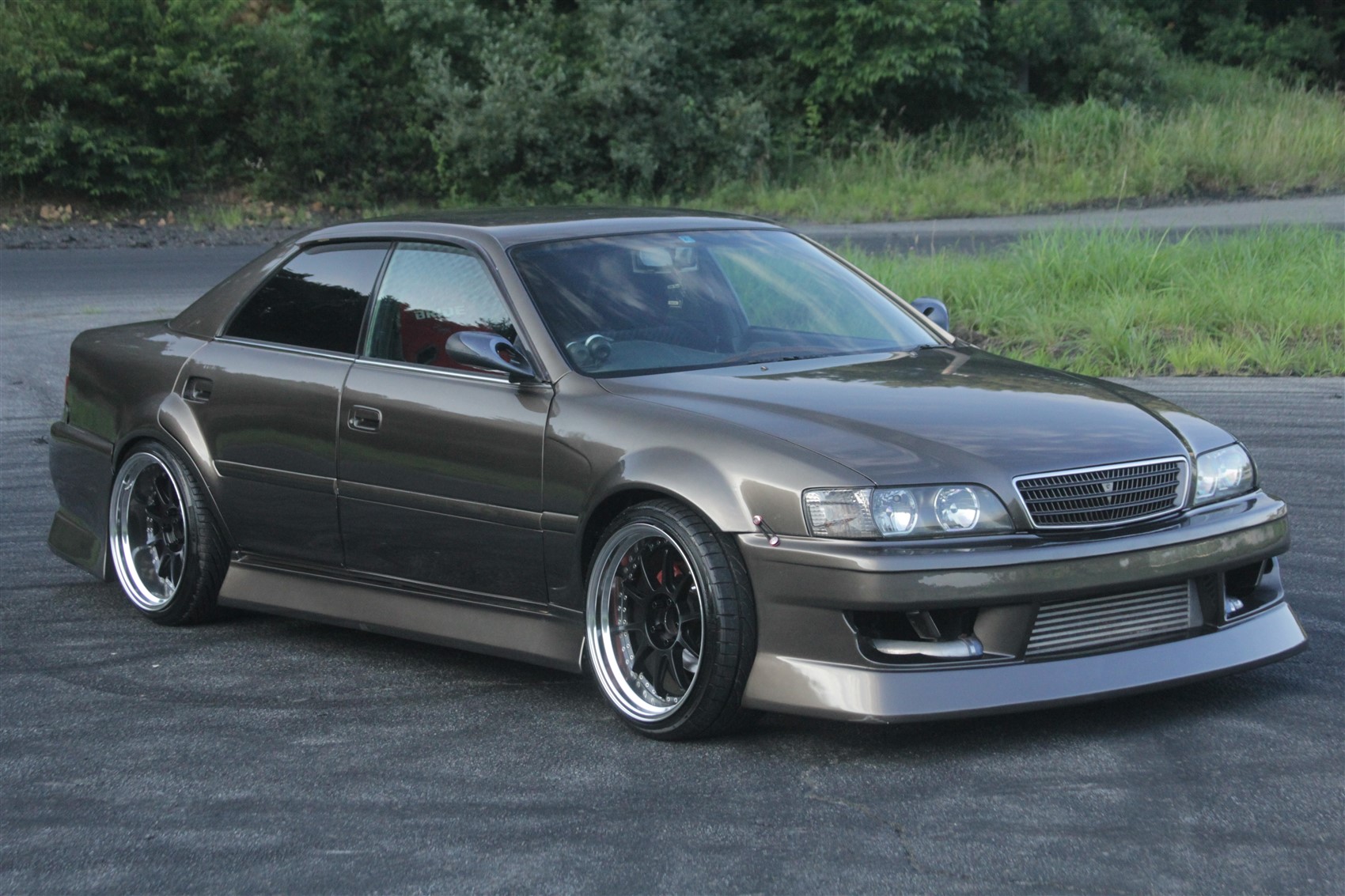 1997.9 JZX100 Chaser Tourer V Repainted Bronze Metallic
We are proud to offer this JZX100 Chaser Tourer V with SSR 19″ wheels, Full BN Sports Aero Lock Mods, and many other tuning parts, For Sale! This Modified JZX100 is a great base for Street/Drift use and is ready to Ship Worldwide including the USA in September 2022!
Spec:
1997.9 JZX100 Chaser Tourer V
Colour:
Repainted Bronze Metallic
New DW Fuel Pump
Greddy Oil Cooler
Greddy Oil Filter Relocation Block
Tomei Turbo Outlet
NEW Triple Pass Fenix Rad
Water By Pass Kit
HPI Air Cleaner
Metal Suction Pipe
SARD FPR
Greddy Metal Upper Rad Pipe
Aftermarket Intercooler
ORC 409D Super Single
326 Power Full Tap Coilovers
Exhaust Silencer Valve (We can remove easily if required)
Front Decat Pipe (New)
Pilo Tie Rod Ends
Ikeya Formula Front Tension Rod / Lower Arm
Rack Spacers
Aftermarket Knuckles
Aftermarket Exhaust System
Aftermarket LSD
APP Front Stain Mesh Brake Lines
Cusco Front Upper Arms
SSR SP3 19 x 10+16 Front Wheels, 11x+11 Rear Wheels
Rear Wheel Spacers
Project Mu Rear Pads
BN Sports Rear Bumper
BN Sports Side Skirts
BN Sports Front Bumper
BN Sports front Fenders
BN Sports Rear Over Fenders
Rear LED Tail Lights
KDC Mirrors
Carbon Dash Cover and Meter Mount
Defi Water Temp Gauge
Defi Boost Gauge (Darker Face Type)
Defi EGT Gauge (Sensor Not Installed)
Defi Oil Press Gauge
Defi Fuel Pressure Gauge
Defi Link Controller
Monitor Type Sun Visors
Pioneer HD Navi
Apexi Power FC and Commander
Bride Recliner Full Bucket Seat
Drift Button
Ultra Rev Speed Meter
ETC
HKS EVC (Boost 1.0)
Works Bell Snap off Steering Boss
Aftermarket Steering Wheel
Please Study all pics for more info (link to full Gallery below)
AT>MT
Dash Cracked / Wavy
Light Front and Rear Repair History – looks fine
Front Suspension a bit soft for drift
Some Paint repair needed at trunk where holes where for Toyota emblem
SARD Catalyser has been removed for power but is available if required
We have better Steering wheels in stock – Kazama Auto 20,000
Powervehicles Boost Up Tune on ECU
Export
We can arrange this car to be shipped to you in your home country!
Drive
You can fly to Japan and Drive this car here on the Circuits of Ebisu!
Tune
We can further Tune this car with Top Parts from our extensive Partners List!
For more information on this vehicle please use the form below.